The price of the Apple iPhone X has caused a shift in the iPhone market
15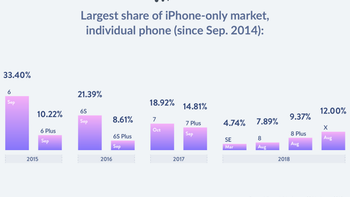 With the launch of the
Apple iPhone 6
and
iPhone 6 Plus
in 2014, Apple started offering a regular sized model and a "Plus" variant every year. According to a chart created by business analytical firm Mixpanel, it has been traditional for the lower priced, regular sized iPhone to grab a larger share of iPhone sales than the "Plus" variant during the course of the year following the release of the latest models.
For example, in 2015 the Apple iPhone 6 had a 33.40% share of iPhone sales compared to the 10.22% that belonged to the iPhone 6 Plus. The next year's
iPhone 6s
grabbed 21.39% of the iPhone market overwhelming the 8.61% belonging to the
iPhone 6s Plus
. The pattern continued in 2016 with the
iPhone 7
and
iPhone 7 Plus
, although the difference in market share between the two was pretty slim.
The pattern looks like it will be broken with the
iPhone 8
and
iPhone 8 Plus
. Through August, the former has a 7.89% slice of the iPhone pie, while the latter owns 9.37% of the iOS handset market. It is clear to see that this turn of events can be "blamed" on the
Apple iPhone X
. The tenth anniversary iPhone has a 12% iPhone market share, but it also has a very high price ($999 for the 64GB model and $1,149 for the 256GB variant). As a result, the iPhone X makes the iPhone 8 Plus ($799 for 64GB, $949 for 256GB) look like a bargain. This drives sales to the iPhone 8 Plus, allowing it to be the first "Plus" iPhone model to score a higher share of iPhone sales than the less expensive, regular sized version.
Recommended Stories