The people have spoken: flexible screens are here to stay... probably
27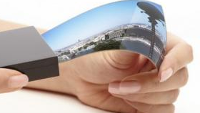 On Tuesday we wanted to poll what your preliminary attitudes towards flexible screens were, if only to have a before and after that we can go back to as this new era unfolds. Well, the results are in and you have spoken, so let's see what the combined wisdom of our readership indicates.
Perhaps most importantly, most of you definitely thought that flexible screens will be useful. Notice the past tense? That one is because of the newly announced
Samsung Galaxy Round
has kind of failed to excite, and we can tell that from the feedback the curvy phone got on PhoneArena and elsewhere. Of course, the optimistic among you still have something to look forward to – who knows, perhaps you'll deem
LG's offering more worthy
, though for now there's no reason to believe it'll be something drastically different from its local rival.
About a third of you erred on the side of caution, admitting that there's simply no telling whether flexible screens are here to stay just yet. Smart, and probably the wiser thing to do.
Lastly, a quarter of those that took part in the poll pulled the trigger rather instantaneously and called flexible screens a gimmick, a possibility not a hundred percent out of the question. That being said, even if the dream of truly useful flexible (and we mean actually flexible) displays doesn't come to fruition in the near future, we still think that
there are plenty of reasons to be excited about the new tech
.