The next Apple iPhone expected to bask in huge demand, component production to begin soon?
36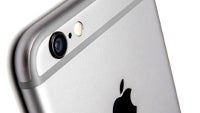 Half a year ago, Apple showed us both the
iPhone 6
and the
iPhone 6 Plus
for the first time; roughly half a year from now, we expect the next iPhone generation to get unraveled.
It's never too early to talk about "the next iPhone" - we've already heard a surplus of speculations through the grapevine, some of which
regard the hardware
, while others the
possible new features
of the smartphone.
Many sources however seem to agree that just like the current crop of record-breaking iPhones, 2015's rendition of Cupertino handset(s) will most certainly bask in the same market popularity, if not more.
This is reportedly making Apple and its contractors in particular go the "better-safe-than-sorry" way - it's said that the latter are about to undertake mass production of the hardware components for the device starting sometime in Q2 2015, so that they could meet the forecasted huge demand and prevent inventory shortages beforehand.
As a refresher, the next iPhone is expected to feature 2GB of RAM, improved Touch ID-enabled home button to better suit Apple Pay, as well as a display that is able to distinguish between lighter and harder taps.