The new iPad bests heat, cold, and water in brutal torture test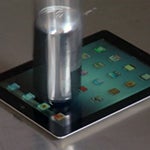 The video below falls squarely into the realm of "things never to do to your gadget". Luckily Cnet's Molly Wood decided to do it for you, and it makes for some pretty compelling video. They selected the new iPad to serve as the first "guest" on a new set of torture tests to see how our gadgets stack up when exposed to the brutal conditions that they may encounter (presumably by accident) in real life.
To that end the new iPad gets left in a freezer, baked in an oven, dropped, keyed, and even doused with water (though mercifully not fully submerged). If you're a true iConnoisseur at heart it may be difficult to watch, but Apple's latest tablet proves to be quite the trooper.
The five minute video is certainly worth a watch, but we'd also like to hear from you – what's the worst thing you've done to your phone or tablet that still resulted in a happy ending? Share it with us in the comments section below.
source:
Cnet