The new ROM for the HTC Hero appears in a video
1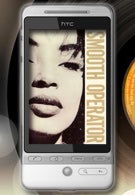 Three days ago we told you that the rumor had it an update for the
HTC Hero
was coming out in 10 days. Now we have a video made by MoDaCo that kind of proves this. However, keep in mind that they actually say the update is coming in a couple of months, so we might have to way a bit longer than expected.
The most significant change is the lagging issue has been finally taken care of. The lagging in menus and when switching between screens was one of the most annoying shortcomings of the HTC Hero, but the video shows the Sense interface has gotten quite snappier now. Moreover, the analog clock doesn´t turn up every time you open the home screen that hosts it, which managed to make quite a few people rather unhappy.
Despite being as happy as can be with what we see, we need to point out that the video doesn´t do justice to the real extent the handset ends up overburdened with the software it runs. During our tests we found out the lagging was most tangible when trying to switch between home screen pages after finishing our work with heavy applications like the phone browser, email client and audio player. Keep in mind
FCC has already given
their blessing and the device may hit U.S. shelves on
October 11
through Sprint, according to the rumors.
via:
PhoneDog