The new Pantech Vega is an LTE-A-equipped, Snapdragon 800-powered 5.6-inch device
21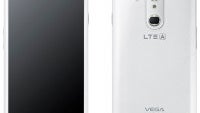 It's okay if you don't know what or who Pantech is. There's a pretty good reason to acquaint yourself with the company, however, and fast. This may surprise you, considering its relative unpopularity in the States, but in South Korea, the most smartphone saturated country, Pantech is actually just as popular as its local rivals: Samsung and LG. And its no wonder, seeing how its upcoming flagship phone, the Pantech Vega IM-A880S, is sporting some bleeding edge hardware.
According to today's leaked press shots of the device, we're a week away from the official unveiling, which almost coincides with LG's G2 launch, on August 7. What's more, the Vega will be the third smartphone in South Korea to come LTE-Advanced capable. Speaking of the LG G2, Pantech's Vega will feature a power button on the back of the device,
along with a touchpad
. We're definitely curious to see how this concept pans out, and both LG and Pantech seem eager to oblige.
The rest of the specs include the gleaned quad-core Snapdragon 800 clocked at 2.3GHz, 2 GB of RAM and a 1080x1920 resolution display of unknown type. The device is expected to start shipping on August 8 with Android 4.2.2 Jelly Bean in tow.
source:
Seeko
,
inews24
via
Techkiddy