The new Moto X is here, and these are its 10 new features
28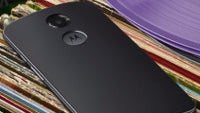 Over a year went by since the then still Google-headed Motorola released its first truly interesting phone -- the Moto X. Initially, nobody was really sure what to make of the X -- it seemingly had a dual-core processor (despite Motorola's claims), a 720p resolution screen, and a 10MP camera at a time when competitors were deeply entrenched in quad-core territory and its devices had made use of 1080p screen and 13MP shooters for a while. It also didn't help that Motorola priced the X at $199 on a contract, on par with the competition.
But it didn't take long for Motorola to see that, even with the amazing Moto Maker customization suite, consumers really weren't into the Moto X as much as the company was expecting. This led to a very quick drop in price to $99 on contract, and numerous flash sales featured the Moto X. Now, Motorola appears to have learned from the experience, and the new Moto X is both cheaper (at $99 on contract) and far better equipped in terms of both specs and features.
But what's new, and how does it differ from the old? Join us in the slideshow below for a quick overview.