The making of an Android tablet (video)
7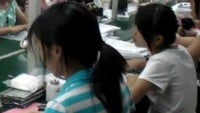 You probably already have a basic idea about the scale of the manual labor of making Apple's iPad in China, but you have probably never seen the tiny details of assembling and testing a tablet in Shenzhen, the manufacturing capital of the world.
An inside peek at a factory in China, gives you a very detailed, and we'd say captivating, video of how labor is brilliantly fragmented and production streamlined for a cheap $50 AllWinner 7-inch Android tablet.
You can see how all the small parts are put together, and the work is definitely not fun for the employees who have to do the same thing over and over again. It's said that per day that particular factory in the video pumps out some 4,000 tablets, so you can imagine there's no time for a smile or small talk during work. The faces of workers are serious, concentrated, as they move their hands quickly doing the same thing over and over again.
You can hear the usual machine sounds interrupted only by the occasional knocking on a table, done to test the microphone on a device. The workers are young, and actually those are the people bringing those magical devices out into the world. Just watching the video makes you appreciate your gadgets more now, doesn't it?