The iPhone 7 and 7 Plus release date is tomorrow, which one would you get?
41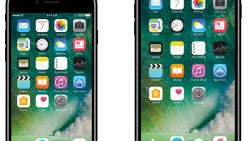 Besides changes in design like new black colors, a capacitive home key, axed audio jack, or antenna bands moved to the sides, the new iPhone 7 and 7 Plus are coming with brand new cameras with larger pixels. while optical stabilization makes a cameo on the smaller iPhone. The larger iPhone also arrives with two of those cameras, one with wide and the other with telephoto lens - an intriguing setup that surprisingly allows 2x optical zoom in such a thin phone.
UK, Germany and France are of the few countries where new iPhones launch concurrently with the US, so the September 16 release date will hold water on the other side of the pond as well, that is why we wanted to ask you which of the two new iPhones would you pick. The 7 Plus is tempting with its dual camera, bokeh effects and optical zoom, but is more expensive, much larger, and
not exactly widely available
, while the iPhone 7 will sit as more manageable in the palm, and now comes with much improved battery life, too. Take your pick, and let us know your argumentation in the comments.