The iPhone 5 is official - do you like it?
99+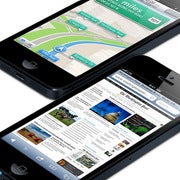 Isn't it amazing how the rumor mill managed to get most of the iPhone 5 features right? From the A6 processor and 4-inch Retina display, to the redesigned dock connector and slimmer profile, everything was leaked weeks prior to the announcement. But at the same time, despite the fact that the iPhone 5 announcement lacked any big surprises whatsoever, Apple's latest smartphone remains a handset with amazing specifications and premium design. And in all honesty, we kind of like it already despite not having the opportunity to try it out first hand, or at least not yet.
How about you, dear readers? Now that it is finally official, are you happy with what the iPhone 5 turned out to be, even though we kind of knew its specifications for so long? Or were you expecting it to be superior in any way, like with a better camera, even bigger display, or perhaps even availability in a wider range of colors? Cast your votes in our poll below!