The iPhone 4 goes free, 4S is $99, and a 16GB iPhone 5 will run you $199, preorders start Friday
23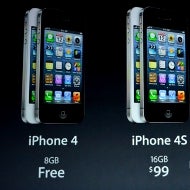 It is not just the screen and dock connector that's been redesigned in the iPhone 5, Apple just disclosed the redesigned prices for its handset portfolio.
As you can easily guess, the single-core iPhone 4 with a 5MP camera gets the price of zero dollars, the dual-core iPhone 4S withe the 8MP shooter falls down to $99, and the new kid on the block, the redesigned iPhone 5 with LTE will debut at... you guessed it... $199.
This pricing is totally in line with every new iPhone launch, so Apple kept up the tradition in this regard, with a growing portfolio of metal-and-glass handsets to choose from.
The iPhone 5 will appear on 240 carriers in more than a hundred countries, with preorders starting Friday, for a launch on the September 21. Any takers?