The humongous early iPad prototype 035 now leaks in color, it's where the iOS touch work started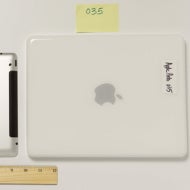 We've read that the iPhone was conceived in a rather convoluted way by Steve Jobs, while he was trying to fulfill his lifelong dream of a portable computer without a keyboard, managed by your most precise instrument, your fingers.
That would be what we now call a tablet, but circa 2002-2004 was just imagined as a chopped-off iBook screen with an on-screen keyboard. Only after seeing what Apple's engineers have done with the touch OS for such a device, like inertia scrolling and pinching, it dawned on Steve Jobs that this was great for managing a much more portable device too, like a phone.
Now color versions of those
black&white pics of prototype 035 that we saw yesterday
were unearthed from the Samsung-Apple lawsuit court filings, and Johny Ive's depositions confirm this is the real deal. What the existence of this unit also confirms is that SJ's original idea was indeed to make a portable computer that is always-on and connected to the Internet, which people can carry around with them at all times.
The closer thing to that ambition was a phone, though, that's why the original tablet project was put on the backburner until the iPhone was born in 2007, but the idea for the handset's touchscreen iOS comes from the early work on the iBook-y 035 prototype you are seeing in the slideshow below. Five years later it turned out that this was precisely what people wanted indeed, making Apple the richest company in the process.