The first official Sony Xperia Z3+ ad focuses on two-day battery life
46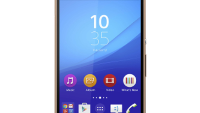 Having
just announced the Xperia Z3+
, Sony has also dropped its first commercial for the device. The 90-second short suggests that those using the handset can
"embrace the power to explore"
thanks to the waterproofing and two-day battery life on offer. While the Z3+ might not seem a major upgrade over the preceding Z3, a full two-days' usage on a 2,900mAh battery is definitely worth showing off about, provided that customers actually experience such satisfying battery longevity, of course.
Let's be honest, the Xperia Z3+ is not going to get most people on their feet. Sony's sort-of-but-not-really-new flagship looks much like the Z3, and aside from the customary processor bump, doesn't bring a great deal more to the table. Having made some real noise at last year's Mobile World Congress with the Xperia Z2, it's fair to say that the PlayStation maker hasn't really consolidated as yet. A bit like how the HTC One M9 feels like a feeble rehash of the M8, the Z3+ is scarcely discernible from the Z3, and the fact that it packs Qualcomm's controversial Snapdragon 810 SoC will do little to help matters.
With the same display and seemingly identical rear camera, the real changes from the Z3 are those obscured by the slightly thinner housing of the Z3+. The battery, as aforementioned, has been down-sized to just 2,900mAh, and with an octa-core processor, 3GB of RAM and an Adreno 430 GPU to run, one might have assumed that the battery could not last out a whole day. Miraculously, though, the Z3+ can apparently run for
"up to"
two days without charge, and with a rugged design that includes an IP 65/68 dust and waterproofing rating, it's well-equipped to take on the harsher terrain.
The fact that the Z3 arrived a few months after the Z2 last year is encouraging for the prospects of a flagship announcement later on in 2015, but in the meantime, the Xperia Z3+ is the top of the pile. Unless, of course,
you happen to live in Japan.
Here's a look at the first of likely many Xperia Z3+ adverts, and let us know what you think of device and commercial via the comments.