Performance artist Yoppy first in line for the Apple iPhone 6
17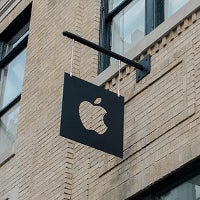 Just because images alleged to be that of the
Apple iPhone 6
were spread out over the internet on Wednesday, it doesn't mean that the phone is about to launch. But try telling that to a man in Japan who goes by the handle of Yoppy. Dressed up as an Apple
iPhone 6
, Yoppy took a position in front of Apple's flagship store in Japan and proceeded to tweet out messages to the world.
"
I'm in the line for in the world's fastest iPhone 6
," Yoppy wrote. "
[It] has been hectic... The English arrived from news sites such as the [English] news site of Brazil. If you do not reply Good luck ...
"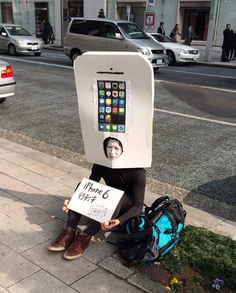 If Yoppy plans on waiting until the Apple iPhone 6 launches, he could be waiting there for anywhere between 4 and 7 months. There is speculation that
Apple will release two different sized iPhone models this year
with one coming to market as soon as May or June. The most rumored screen sizes have been 4.7 inches and 5.5 inches.
Based on the photos
allegedly showing the Apple iPhone 6
, the device will feature much narrower top and bottom bezels, and extremely thin side bezels. Fingerprint sensor TouchID remains embedded in the home button. The device looks to be extremely narrow with earlier stories calling for
the phone to be named the Apple iPhone Air, with a 6mm thickness
.
Oh, we almost forgot about poor Yoppy. Hopefully, he will realize that he is at best, about 16 weeks early. Most likely, he has another 28 to 30 weeks left before the Apple iPhone 6 is launched. We hope that he leaves under his own free will before the Tokyo cops decide to give him a change of address to a nice rubber-walled room.
source:
@yoppymodel
via
TheRegister