The devices Apple managed to get banned
99+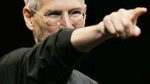 The trial between Apple and Samsung might have just started, but the legal battles fought by the company from Cupertino have been going on for months. When you think about the time, resources and effort put by Apple into all of these lawsuits,
the result in the form of banned devices actually seems fairly small. Truth be told, Apple managed to get a few devices off the shelves for a limited amount of time in various parts of the world, but we wouldn't say that the effect was exactly what Apple wanted.
So, which were those devices that fell victims to the legal battles between Apple and pretty much everyone else? Exactly which devices did Apple manage to get banned? The gallery we've put together below will show you just that...
Recommended Stories