The cool and weird: Apple iPhone 5 cases at CES 2013
13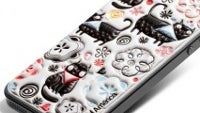 If you care about phones, CES 2013 for you was mostly about those sweet new 5-inch 1080p smartphones like the Sony Xperia Z, but while Android dominated smartphones with little competition in Las Vegas while Apple was absent, it was the other way around when it came to accessories.
The iEconomy seems to be in perfect health as even though Apple was not at the event, all sorts of companies brought their new accessories and cases for the iPhone 5 and iPad.
Some of them were artistic, others in not so good taste (hello, rabbit fur case!), but all of them were far from the ordinary. With so many case makers out there, it's really no wonder you have so many clothing options for your iDevice. We've picked the best of iPhone 5 cases we saw, and you can take a look right below.