The bezel-less ZTE Nubia Z9 is headed to the U.S. market
17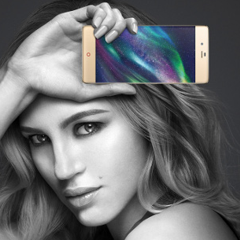 The
ZTE Nubia Z9
sold out in just ten minutes
after debuting in China last month, and now, the device is looking to make a similar splash as it prepares to launch across the United States. With a super-sleek, near-bezel-less profile, it's quite unlike most other high-end smartphones currently sold Stateside, and with prices ranging from $564 for the base-level model right up to $725 for the feature-packed variant, there's plenty of choice.
The Nubia Z9 Classic packs 3 GB of RAM and 32 GB of on-board storage for $564, while the Elite model bumps things up with 4 GB of RAM and 64 GB of storage for $645. The Exclusive version, meanwhile, is the same as the Elite in technical terms, but also includes a fingerprint sensor for a handset price of $725.
Each version of the Nubia Z9 packs a 5.2-inch 1080 x 1920 display, and as you can see, bezels are barely discernible. In a similar fashion to the Samsung Galaxy S6 edge, the Nubia Z9 lets you access certain special functions by interacting with the outer segments of the display, utilizing what ZTE likes to call 'Frame Interactive Technology'.
The Nubia Z9 also packs a Snapdragon 810 SoC, a 2900 mAh battery and 4G LTE. To the rear, there's a 16-megapixel rear camera that includes Sony's IMX234 sensor, optical image stabilization, and other treats, while the front-facing, 8-megapixel sensor is accompanied by a wide-angle lens for those all-important group selfies.
Given the reception to the ZTE Nubia Z9 in China, this line could also make strong sales in the U.S.. The release is slated for Q3 of this year, so we'd expect to see the Z9 hit the market over the next couple of months, and hopefully, ZTE will furnish us with official release dates very soon.