The best leather cases for the iPhone 8 and iPhone 8 Plus
1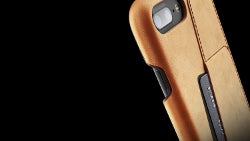 By now, early adopters of Apple's iPhones are re-discovering the joys of having a glass back on your phone — it's pretty, it's shiny, it's next to impossible to keep clean, and it has that weird slippery effect when your palms are slightly sweaty. Yeah, it has its ups and downs. But hey, most people use their phones with a case and what better way to stay classy than to slap a leather case on your new iPhone?
Well, there are plenty to choose from out there, sure, but we decided to point out some of the cooler ones we've found. So, without dragging it for much longer, here are some of the best leather cases for the iPhone 8 and iPhone 8 Plus.
Shieldon leather cases

Shieldon made a name for itself by launching a series of high-quality, premium-feeling leather cases. These used to cost a pretty penny, but seem to have fallen quite a bit in price. The good news is that the iPhone 7 and 7 Plus models are a perfect fit for the iPhone 8 and 8 Plus as well (they've even been re-branded to indicate this) and you can get a special leather case for about 20 to 30 bucks.
There are three variants, all of which can be used as wallet cases thanks to a front flap. The first two look similar, but one is with a magnetic latch, while the other uses no latch and just closes magnetically. The third offers a slightly cleaner look, with trimmed corners that follow the iPhone's shapes better. It's the "slimmer" option.
Mujjo leather cases

Mujjo is yet another company that specializes in its own leather cases. It also produces the so-called "sleeves", which look quite stylish we find. The cases range from a minimal shell, which has cutouts for your phone's volume and power buttons to an all-covering shell with a card pocket on the back.
You can check out Mujjo's full collection over in the links below — there are about 4 case types in total for each phone model.
Nodus leather cases

There are a couple of things that are unique about the Nodus cases. Their leather grain looks a bit more rough and rugged, giving the cases a look that is quite unique to competing products. They also have a built-in magnet, which works with a proprietary Nodus dock — a small block, which you can attach to any surface and then snap your phone to it at will.
They come in two main variants — back shell and flap cover — and in a variety of colors.
OtterBox Strada Folio

OtterBox is well-known for its uber-protective cases. The Folio inspires the same amount of confidence but comes in a flap case form factor. It comes in different types of leather grain and 5 colors. Also has a single card pocket, but its main function is definitely not as a wallet.


Totallee leather case

Totallee claims that it has the thinnest leather case for the iPhone 8. The shell is 0.02 inches thick and it comes in either black or brown. A great choice if you want to get that leather feel, better grip, and not add too much bulk to your iPhone.
Kanvasa One leather case

A very minimal shell, which has wide openings for the phone's hardware buttons. iPhones have some of the best, clickiest buttons out there, so it's always a pleasure to not have them covered up by a 3rd party case. Of course, don't expect massive protection here — it's great for everyday use, not the best choice for hiking.
Tendlin leather case

The Tendlin is your classic TPU shell, dressed in leather. It's 0.08 inches thick on the back and has a 0.04 lip to protect the display. So it definitely adds some heft, but that also means protection, and looks classy while doing it. Comes in black or brown.