The Windows Phone 7 Fangirls drop their first single on YouTube
37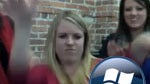 YouTube: a site where anyone, anywhere, can upload anything and share it with the world. What could possibly go wrong? Apparently, everything.
These ladies are such fans of Windows Phone 7 they took to the web to proclaim their love for their favorite phone OS in the form of a rap. Much like a car accident or a train wreck, it is very hard to resist taking a peek, and once you look, you can't look away. We must remind you, however, some sights cannot be unseen.
There is some suspicion to the authenticity of this video because toward the end, one of the "
rappers
" says, "
Look for us on iTunes in the near future.
" One would assume that the real Windows Phone 7 Fangirls would be exclusive to Zune, but who are we to judge their artistic license?
Without further ado, the awful, yet hilarious: "Sleek on the outside, Microsoft inside. Windows, Windows, Windows Phone! YEAH!"
source:
Gizmodo