The UMi Super is here: octa-core processor, 4 GB of RAM, 4,000 mAh battery, bargain price!
14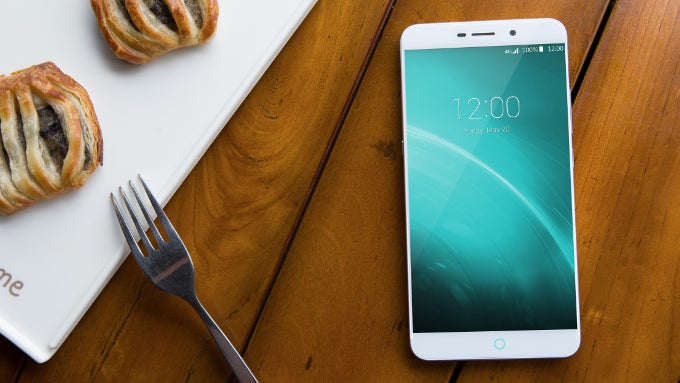 Advertorial by Umi: the opinions expressed in this story may not reflect the positions of PhoneArena!
UMi is a fairly new, less-known brand, which has been making headlines with its aggressively-priced smartphones, notable for construction materials and hardware components one wouldn't expect to see at their low price tiers. The company is currently gearing up to launch a new flagship smartphone, which, as expected, features impressive specs and an unexpertedly low price-tag.
Design
The UMi Super is an all-metal phone, constructed with aircraft-grade magnalium (aluminum and magnesium alloy). The phone sports a 5.5-inch display with a 1080x1920 pixel resolution, which utilizes Sharp's Sunlight technology — it improves outdoor visibility by actively adjusting the contrast on a pixel-per-pixel basis. The Super's thin side bezels and arched back with an abrasive texture ensure easy handling and no slips. The hardware controls consist of a power key and volume rocker on the right, and a special custom button on the left, which the user can assign functions or apps to. We've also got a capacitive home button under the display and a fingerprint sensor on the back, capable of unlocking the phone in 0.1-0.3 seconds.
The capacitive button on the bottom of the device houses a multi-color LED for notifications, which doesn't blink, but fades in and out for a smoother "breathing" effect. The user can assign its different colors for different app notifications.
Hardware and camera
The UMi Super has a MediaTek Helio P10 octa-core SoC humming under its hood. The processor utilizes the Tri-Cluster technology, where the cores are split in three separate groups, each designed to handle a different type of workload, thus achieving better energy efficiency without sacrificing performance. The phone has 4 GB of LPDDR3 RAM and a 32 GB eMMC 5.1 internal memory chip, both manufactured by Samsung. Of course, if space is an issue, the user also has the choice to install a microSD card for extra storage. The charging and data port is of the reversible USB Type-C variety, in tune with the latest tech.
As for software, the Super comes with an almost pure Android 6.0 Marshmallow, with just a few extra options added to the user interface to access settings for the notification LED and the custom hardware button we spoke of earlier.
The phone's non-removable battery utilizes Sony technologies and is super-condensed, housing a capacity of 4,000 mAh. The MediaTek Pump Express quick charging technology ensures that this huge juicebox can be filled up in about an hour.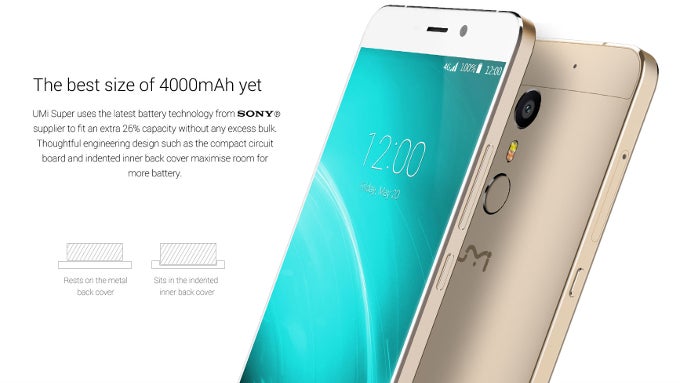 For its main camera, the Super has a 13 MP sensor, made by Panasonic. UMi made sure that the camera will be useful for those moments that pass by really quick, with a camera launch time of about 0.5 seconds, a focus speed as fast as 0.3 seconds, and zero shutter lag. Additional features, such as exposure control, tracking auto-focus, post-shoot focus adjustment, and bokeh, are also available. For dark scenarios, the camera is equipped with a dual-tone LED for a more natural illumination.
On the front, we have a 5 MP snapper with a "smart filter" mode – the phone will actively try to determine the user's age, gauge their face complexion, and choose the best filter out of the 36 pre-installed ones to apply.
As always, if you are planning on buying an exotic smartphone, you need to make sure that it supports your carrier's bands. The UMi Super supports:
2G: GSM 850(B5)/900(B8)/1800(B3)/1900(B2)
3G: WCDMA 850(B5)/900(B8)/1900(B2)/2100(B1)
4G: FDD-LTE 2100(B1)/1800(B3)/2600(B7)/800(B20)
Price and launch
The UMi Super is currently up for pre-sale in its Gray and Gold variants, priced at $219.99, and MSRP will go as high as $249.99 when the pre-sale closes on the 30th of June. However, if you subscribe to get updates from UMi, you will get a $70-off coupon, effectively bringing the device's price down to $179.99 for early adopters. There's also a giveaway game raffle organized on the website (linked below), and the manufacturer will throw in free shipping as an extra gift!
Official pre-sale website:
UMi Super $70-off coupon and Giveaway