The Spinning Vinyl app is ready to rock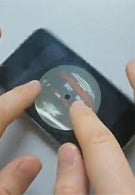 It's not very often that we see a really good and original application, but this one totally rocks! So, what's so unique about it? Its interface will surely take you by surprise, since it won't make you do typical things like scrolling, panning or clicking, but you will need to interact with the phone instead. In order to spin the vinyl (so that the music starts playing), you would need to rotate the phone (on a table, for example). The app basically has the accelerometer handle the rest – once the vinyl has whirled, you can start playing with both the phone and the vinyl, adjusting the exact speed that you want your track to be played at. If you rotate it clockwise, the record will start playing backwards!
The bad news, however, is that Spinning Vinyls is not available for download yet, but we hope the author decides to share it soon enough. Enjoy the video below!
via:
EngadgetMobile