The Sony SmartWatch 3 is the latest Android Wear device
25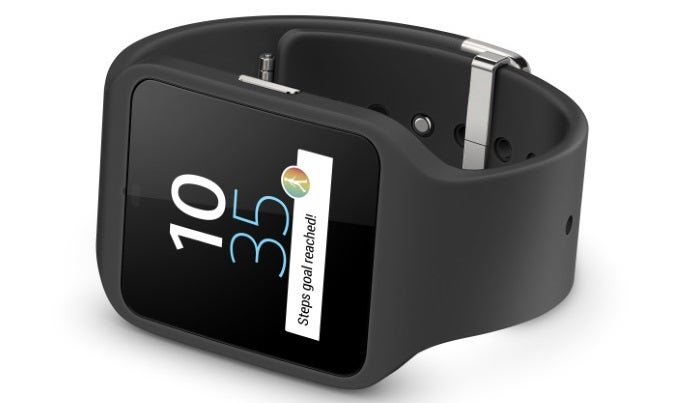 Sony's wearable devices line-up has increased from last year with the addition of the Sony SmartBand Talk and the SmartWatch 3. Like the band, the SmartWatch 3 is integrated with the Lifelog app for Android in an effort to go "beyond mere fitness tracking and number crunching", as Sony put it.
Unlike its predecessors, the SmartWatch 3 was designed in close collaboration with Google, resulting in the latest Android Wear device to hit the market. It pairs with a smartphone over Bluetooth, or works in standalone mode, offering apps and integrated microphone, accelerometer, compass, gyro, and GPS sensors.
The SmartWatch 3 has a 1.6-inch 320x320 TFT LCD "transflective" display, which should offer the needed visibility in bright sunlight, and built-in 4GB storage. It's another waterproof smart-watch, but it's also extremely slim, coming in at only 1.4 x 0.39 x 2 inches (36 x 10 x 51 mm), 1.34oz (38g). It has a silicone rubber band, while the back panel is made of stainless steel. The hardware platform is the usual Android Wear set-up, based on a 1.2GHz Qualcomm Snapdragon 400 CPU with 512MB RAM and a 420mAh battery.
The Sony SmartWatch 3 will be available in Classik (Black) and Sport (Lime). The Classic & Sport versions cost 230 EUR, with the equivalent US price likely being $230. The release date is unknown.
source: Sony