The Samsung S Console Gamepad app transforms your Galaxy phone into a game controller for Galaxy View
20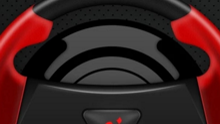 Samsung says about its
Galaxy View
that it provides "an entirely new way of consuming mobile video and entertainment", and presents it as "the largest Android mobile device on the market" - we can't argue with that, since the Galaxy View sports an 18.4-inch screen.
To help users who may want to play games on the Galaxy View, Samsung recently released an S Console Gamepad app. This works with select Samsung smartphones (Galaxy S4, Galaxy S5, Galaxy S6 series, Note 3, Note 4, and Note5), transforming them - or, rather, their screens - into virtual gamepads.
The new app can be downloaded for free from Google Play - check out the source link below. According to Samsung, the application lets you play more than "100 well-known gamepad optimized games", though it's not clear exactly what titles are included here. To use the S Console Gamepad app with a Galaxy View, you'll need to pair the giant device (via Bluetooth) with your Galaxy phone.
Do you see yourself enjoying the S Console Gamepad app (assuming you have, or plan to get a Galaxy View, plus one of the Galaxy handsets listed above)?
source:
Google Play
Recommended Stories