The Samsung Galaxy and LG GM730 appear in odd commercials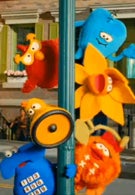 The commercials of the
Samsung Galaxy
and
LG GM730
come to shatter the myth that smartphones are exclusively business oriented devices, used by irksome, tediously looking people in boring, gray suits. If you happen to be afflicted with the false belief, you better browse to the section below and watch the videos right away. We find them truly funny and perhaps they will touch the child in you.
For an instance, the Android-based Samsung Galaxy I7500 appears as a space ship, with the various functions it delivers depicted as different planets she lands on. You will be able to see the planets of navigation, games, finances etc. The video ends with "to be continued", which probably means we are about to see a whole galaxy when the Android Market has expanded enough.
Samsung Galaxy I7500 Specifications
|
Preview
The commercial of the Windows Mobile powered LG GM730 reminds us of Sesame Street, because the different device functions are represented as puppets. Aside from the standard navigation, email and calendar, you will be faced with a huge plush browser with some YouTube-like web player running. Hm, will the GM730 come with fully fledged Flash support we wonder? Let´s wait and see. By the way, we do like the audio of the commercial... Sounds great and we believe it will prove to be the right choice for our participation in the next American Idol that we have planned on.
LG GM730 Specifications
|
First impressions
source:
EngadgetMobile
,
MobileCrunch