The Samsung Galaxy S line is a gamers dream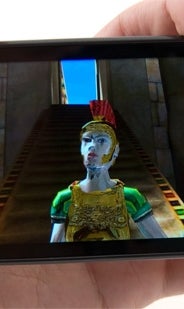 One of the first
Samsung Galaxy S
phones to be released in the US is the AT&T
Captivate
, with an emanate release of the
Epic 4G
for Sprint,
Vibrant
for T-Mobile, and
Fascinate
for Verizon coming soon. One of the main features of the Galaxy S line of phones is the 4" Super AMOLED display, but what good is that if games are going to look choppy? The people over at AndroidAndMe had compiled some benchmark tests with the new Samsung Captivate next to other phones and say it's a gamers dream. This is due to the device's 1GHz Hummingbird processor, which contains the newest PowerVR SGX540 GPU, compared to the Motorola
DROID
,
DROID X
, and
DROID 2
that use the older SGX530 GPU. What does this mean for gamers? Simply put, the Samsung Galaxy S line offer the most frames-per-second out there, with the Captivate running Neocore benchmark at 55.8 fps, which is 30% faster than the Motorola DROID X at 42 fps. The Samsung Captivate also takes home the best score in Nenamark and GLBenchmark Pro, but GLBenchmark HD has it at 3rd place after the DROID X and
myTouch Slide
. After that, the devices were tested using GLBenchmark 2.0, which measures the OpenGL ES 2.0 capabilities of the device and also measures performance with full-scene anti-aliasing (FSAA), that helps avoid aliasing (jaggies) on full-screen images. Once again, the Samsung Captivate comes out on top with 2-3 times the GPU performance of the older SGX530 and Adreno GPUs. Based on these tests, the Samsung Captivate offers the best gaming experience out of the Android phones, and this should carry over to the rest of the Samsung Galaxy S line once they are released. Now all we need are some more high-end games to be available that can take advantage of the high fps count.
Samsung Captivate Review
|
Specifications
Samsung Galaxy S line launch event in NY
source:
androidandme