The Samsung Galaxy Note 5 guest-stars in Ariana Grande's new music video for Focus
29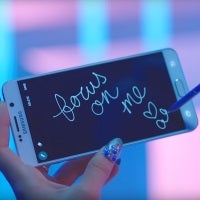 In South Korea, Samsung is everywhere — you wake up in your Samsung bed, shower in your Samsung bathroom, go to the doctor's at the Samsung hospital, eat at the Samsung restaurant... you get where we're going with this. For better or worse, Samsung hasn't cast a shadow this long over the rest of the world, but it is carving a spot for itself in increasingly surprising places, such as starlet Ariana Grande's video for her new single, 'Focus'.
Although you'll be keeping your eyes on the singer for the duration of the video, the Galaxy Note 5's presence is impossible to miss. Sammy's King Phablet shows up in her hands no later than two seconds in, and what can we say, the phone is definitely dressed for the occasion with its sharp metallic looks! Ariana is in full swing too, writing notes with the S-Pen and showing off that cool trick that lets you write things on its screen without unlocking the phone. A match made in heaven, indeed!
For all we know, the Note 5 is bound to make more than a few appearances like this in the coming weeks. Samsung reportedly paid $25 million to play a part in Rihanna's upcoming new album and tour! It may seem like a hefty investment, but $25 mil will probably pale in comparison with the wads of cash generated by Riri's album and ticket sales. Hopefully, the fans who see Samsung's logo and products featured in her upcoming shows will convert to more sales of the Koreans' high-end Android tablet.
The video to 'Focus' is available for your aural pleasure below.