The Samsung Galaxy Gear is on $100 clearance sale at Bell Canada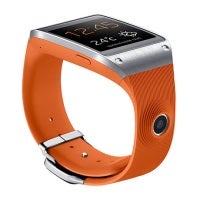 Apparently, Bell Canada took the masterbutcher's knife to the original Samsung Galaxy Gear's price. As itssuccessors, the Gear 2 and Gear 2 Neo now reign supreme, theonce-$349.99 Galaxy Gear is now a mere $99.97 on Bell's website. Thisis $50 cheaper than the original Pebble, and almost $150 less thanits steel-clad version. Although the Galaxy Gear only pairs withSamsung Galaxy smartphones and tablets, at $100 that's a lot ofsmart-watch for the money. But do keep in mind that the checkout islimited to three items per user.
On the US side of things, Best Buyalready sold the Galaxy Gear for $149.99 for a day, but mostretailers are still keeping its steep price tag. Hopefully Bell'sdrastic price cut is a sign for upcoming clearance sales that willmake room for Sammy's new Gears in retailers' warehouses.
Samsung Galaxy Gear gallery
source: BellCanada