The Rose Gold iPhone 6s models account for up to 40% of total pre-orders
39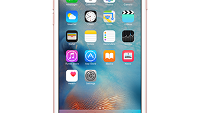 When the
iPhone 5s
launched two years back, fans went crazy for the then-new Gold model, which sold out the quickest in most markets that it launched. Human beings seem to have an affinity to precious metals even though the iPhone 5s wasn't comprised of any
actual
gold, and with the announcement of a Rose Gold color configuration with the latest iPhone models, it was always likely to be the most popular once more. Whether it be Gold, Rose Gold or even White, iPhone fans have long enjoyed the novelty factor offered by an alternative shade. With early indications that the Rose Gold
iPhone 6s Plus
is the
most popular among early adopters
, KGI's Ming-Chi Kuo has backed this by suggesting that between 30 and 40 percent of pre-ordered devices bear the new finish.
In the run-up to the launch of Apple's latest handsets, it was speculated that Cupertino could be opting for
a pink flavor
of the device. An interesting prospect that we'll no doubt see at some point in the future from Apple, the arguably more palatable tone of Rose Gold is the
actual
product of the pre-announcement rumors.
Keeping users interested in its flagship handsets is critical for Apple, particularly when the time comes for the incremental 's' upgrade. While certainly not as much of a leap as this time last year when the redesigned
iPhone 6
took center stage, the iPhone 6s is still generating the usual hype. Whether this will be reflected in sales is a matter to be determined over the next few days and weeks, of course. But
with China being in receipt
of the 6s and 6s Plus from the very beginning this time, one suspects that more records will be broken when the count-up has commenced.
Kuo expects Apple to shift 10-13 million units over this initial weekend, which is somewhere in line with Wall Street estimates. Meanwhile, yield of the Rose Gold casing, along with the new Taptic Engine and backlight module, are said to be adversely affecting production as the Mac maker tries to churn out as many units as possible.
Are you picking up the new iPhone 6s / 6s Plus, or are you skipping this bump and instead waiting
for the iPhone 7
?