The Polar M200 packs a heart rate sensor and GPS for just $149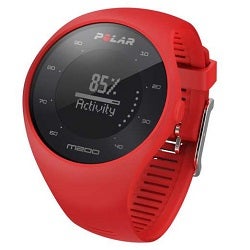 If you're in the market for a new smartwatch or
fitness tracker
, there's never been a better time to buy. The market is quite flooded with different choices at the moment, and no matter what you're looking for in your next wearable, you've got plenty of options to choose from. However, despite all the choice that we've got, there's one feature that's sometimes hard to come by - GPS. While there are plenty of smartwatches/fitness trackers out there that have GPS radios built into them, they often have a tendency to cost anywhere from $200 and up. While that's not a lot of money at all to spend on a smatwatch, it is a bit pricey when looking at fitness trackers. If you're looking for a fitness tracker with built-in GPS on a budget, Polar just might have the answer for you with their new M200.
Something you need to be aware of right off the bat is the fact that the M200 doesn't run Android Wear or anything like that. The watch is running its own proprietary software, but this isn't something you'll be downloading apps and texting friends on. The M200 is very fitness-centric, and this is quite noticeable with the M200's heart rate sensor and built-in GPS. Having a GPS unit built right into the M200 means that the wearable is able to fully track where your runs take place without having to carry your phone with you. And, in addition to tracking the location of your runs, the M200 can also keep tabs on calories you've burned, how many steps you've taken, and - of course - your heart rate and distance you've traveled.
All of the information that the M200 collects throughout the day can be viewed on the Polar Flow application that's available for both Android and iOS, and you can also access this info through your desktop or laptop through Polar's website. In addition to being able to view all of your stats on the Flow app, you'll even be able to get personalized tips for improving your runs and be able to join custom training plans for getting ready to run a 5K, 10K, half-marathon, or full-marathon.
A full charge on the Polar M200 will get you around 6 hours of continuous running/training time
A full charge on the Polar M200 will get you around 6 hours of continuous running/training time, and this includes the GPS and heart rate sensor running at all times. Bundle in the M200's ability to receive calls, text messages, calendar reminders, and social media notifications from your smartphone when it's connected to it via Bluetooth, and you're looking at a pretty sweet package for just $149. Polar is currently offering the M200 in two color models - Bright Red and Charcoal Black - but you can purchase additional bands for just $19.90. Pre-orders are live now, and Polar says that deliveries will begin shipping out towards the end of this month.