The Pebble Time can now be pre-ordered in the United States for $199.99
6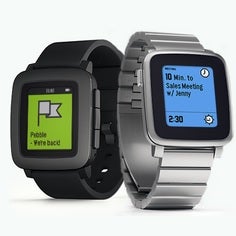 The Pebble has long been one of
Kickstarter's greatest exports
, and after yet another
hugely successful campaign
that raised an eye-watering $20 million, the all-new Pebble Time has
shipped out
to most of those who jumped on the fundraiser. Those who didn't pledge any money during the Kictstarter window can still get their hands, or rather wrists, on the Pebble Time, but as emerged a short while ago, pre-orders in the U.S. are exclusive to Best Buy. After
the announcement
that pre-orders would commence from today, June 22nd, everything is running to schedule, and as such, pre-orders for the Pebble Time are now officially live at Best Buy.
The retailer has the Pebble Time (not the Pebble Time Steel) in the Black, Red and White color configurations. If you are looking to snap up the wearable credited with forging the smartwatch market as we know it, you're looking at an outlay of $200. For that price, you get a wrist computer that pairs with both iOS and Android platforms through Bluetooth 4.0, sports a 1.25-inch color e-paper display, and boasts a whole week's worth of battery life.
The flashier Pebble Time Steel variant is not yet available to pre-order. It will make retail at some point in the near future, though, and we'll keep you posted as and when it becomes available for pre-order.
In the meantime, here are the direct pre-order links for the Black, Red and White variants of the Pebble Time:
Will you be purchasing the Pebble Time? Let us know of your thoughts in the comments section.