The Moto Insta-Share Projector for Moto Z/Z Force turns any flat surface into a 70" screen
14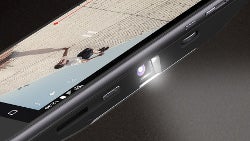 As a whole, we've now reached a place where smartphones have become firmly embedded into our lives. But they're not the be-all, end-all of all activities, and serious movie and video watching are good examples. Sure, you can watch, but can you ever compare squiring at a 5.5-incher with the experience made possible by your 50-inch TV in your living room? Of course not. And that's not about to change, at least not for a while, but Moto is trying to bridge the gap.
Say hello to the Moto Insta-Share Projector for the newly announced Moto Z and Moto Z Force. A snap-on add-on like
the JBL SoundBoost
, this particular MotoMod turns the two into multimedia devices capable of projecting an image up to 70 inches large. To establishe contact with either of the two phones, you just push the accessory on top of the dozens of strong magnets on their backs.
Moto lists the resolution of the projector as 480p (or 854 x 480), wtih a 1:400 contrast ratio and 50 lumens nominal brightness. These are important metrics, as they speak directly to the kind of quality you can expect, and the environments in which projection will be feasible. If the projector is too dim, for example, you'll need to ensure curtains are pulled or that you're in a dark spot. In this case, don't expect anything approaching the quality available with a traditional, bulky projector. Still, for a pico projector, that's on the decent side.
To add more value on top of this already cool feature, Moto has also integrated a battery within the Insta-Share Projector. According to the company, you can get up to an hour of extra screen time with it. The integrated kickstand will let you project at pretty much any angle.
Pricing information with the Insta-Share Projector remains unknown, though it's in the same boat with the new Moto Z phones and their MotoMods companions. More specifically, expect a summer release on Verizon's network under the DROID brand, and a more inclusive, unlocked model by the Fall.
Recommended Stories