The Moto G is the most successful Motorola smartphone of all time
54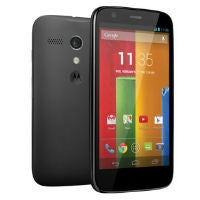 The first time you read that headline, you might be a bit surprised, but the more you think about it, the more sense it makes. Motorola has dropped quite a bit of interesting information today from the news about the next Moto X and a smartwatch in the works, to talking about the expansion plans for the current Moto X. But, Motorola also has an interesting tidbit on the Moto G.
According to Motorola, the Moto G is "the most successful, highest-selling smartphone in Motorola's history." On first glance, you might think that can't be right, but by far Motorola's best selling device was the OG Razr, which was not a smartphone. The OG Motorola DROID was also quite popular, but it was Verizon only and because of that, it was U.S. only.
The Moto G not only has the amazing price point going for it, but it has also been released in Brazil, Latin America, U.S. Canada, Europe, and India. And, the Moto G was already a best-seller in India before the official release by Motorola. Apparently, a smartphone that offers more than you'd expect for under $200 is a winning formula.
source: Motorola MWC Press Dinner