The Moto 360 (2nd generation) can be purchased for just $199 through Verizon
3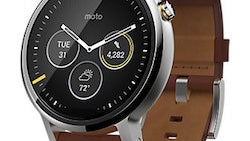 If you paid any attention at all to the smartwatch market in 2016, then you'd know that things settled down quite a bit as compared to last year. While new smartwatches did hit the scene, such as the Apple Watch Series 2 and Samsung Gear S3, there were notable omissions from the likes of Huawei and Motorola. In fact, Android Wear offerings as a whole were pretty timid this entire year. New additions like the Asus ZenWatch 3 were very welcome, but there's no doubt at all that Google's wearable OS as a whole took a backseat for 2016.
Even with that being the case, that's not to say that there aren't any good Android Wear-powered watches that currently exist. The Huawei Watch and Moto 360 (2nd gen) are still considered to be some of the best offerings in the Android Wear market despite their older age, and the latter of those two devices has just received a rather heavy price cut of $100 thanks to Verizon Wireless.
If you make your way over to Verizon's website right now, you can purchase the Moto 360 for just $199.99 with free shipping. You don't have the ability to customize the watch via Moto Maker since you are buying it through Verizon, and the only model that's still in stock is the 46-millimeter variant with a silver casing and cognac leather band. This deal likely won't last that long with it being Christmas Eve, so we suggest getting your orders in as soon as possible if you're interested.