The Meizu Pro 7 and Pro 7 Plus are now official: twice the screen, twice the camera
17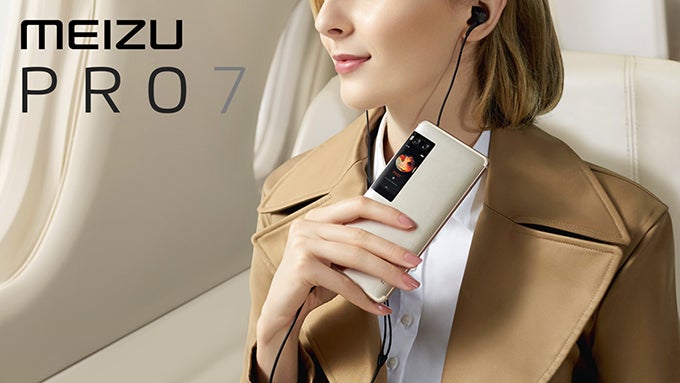 Meizu has traditionally been one of those Chinese phone makers you've probably heard about, but never really given much thought to. It's not that their devices have been bad by any measure — they've just been mostly forgettable.
But this is now in the past: the company has now formally introduced us to its latest flagship duo, and if it's one thing they possess in spades, it's personality. You see, while we've seen several different implementations of the "second screen on a smartphone" idea (see: Samsung's
Galaxy Folder
series, LG's
V20
, or the
YotaPhone 2
), nothing so far has looked quite like the Pro 7.
But first off, let's get one thing out of the way: while the two Pro 7 models share many characteristics, including their unique industrial design, they differ quite a bit on the inside: in fact, the smaller Pro 7 is actually a mid-ranger on the inside. This is nothing unique for the company, though, as the same difference can be found in last year's Pro 6 and Pro 6 Plus as well — but we'll get to that in a bit.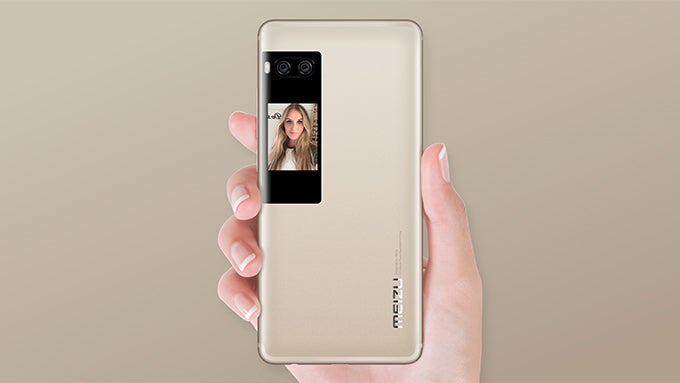 First off, let's focus on the standout feature: the second display on the back of the device. It's a touch-enabled AMOLED panel that has a number of different uses: you can see and manage your notifications, control your music, or — of course — use it as a viewfinder for a selfie with the rear camera. Meizu will also provide "a wide variety of customizable wallpapers," though we imagine most of them will be on the darker side for battery saving purposes.
And as for that rear camera: a first for Meizu is the addition of a dual-lens module, as per 2017's hottest smartphone trend. The configuration will be of the monochrome/color variety, with both sensors sporting a resolution of 12 MP. Curiously enough, this is the very same camera configuration (even down to the sensor model) as the
Moto Z2 Force Edition
, which was announced just yesterday.
But the front camera is nothing to scoff at, either: Meizu has shoved an impressive-sounding 16 MP sensor on its selfie cam, which also utilizes a so-called "four-in-one" algorithm to make low-light selfies look better. And below that camera you'll find the two devices' respective displays: Samsung-made Super AMOLED panels, a 5.2-inch Full HD one for the Pro 7, and a 5.7-inch Quad HD one for the Pro 7 Plus.
As mentioned, the biggest differences between the two devices are beneath the surface. The larger Pro 7 Plus marks the debut of MediaTek's latest flagship chipset, the helio X30, combined with 6 GB of RAM — which sounds okay on paper but needs to be put to the test before we can start drawing any conclusions. The phone will come with either 64 GB or 128 GB of storage.
Meanwhile, the smaller Pro 7 sports definite mid-ranger specs, thanks to its MediaTek helio P25 SoC, though this is combined with 4 GB of RAM. But this is the base version only: a second, high-specced variant will be offered as well, with the same helio X30 chipset as its sibling, as well as 128 GB of storage (the regular version offers 64 GB of storage instead).
MediaTek processors aren't generally known for their superb power efficiency, so the Pro 7 and Pro 7 Plus' respective 3,000 mAh and 3,500 mAh battery capacities aren't necessarily a good or a bad thing. However, both phones are equipped with Meizu's mCharge 4.0 fast charging technology, which promises ultra-fast recharge speeds and reduced overheating.
Lastly, a couple of extra notes: this being a Chinese phone, we can't do without a heavily customized Android UI, so the Meizu Pro 7 duo runs on the company's own Flyme 6. And an interesting feature the company seems very proud of is a special Hi-Fi chip designed to bring high-quality audio. And yes, that does mean that the Pro 7 duo has not jumped on the latest bandwagon, and offers a 3.5mm headphone jack.
Both devices will be available starting August 5. The smaller Pro 7 will start at the equivalent of $430, while its bigger sibling will go for about $530 instead. This looks like a reasonable price, but there's one major catch: Meizu isn't a company with a large profile outside its homeland. Which means that if you're not in one of the 17 officially supported countries, you'll have to jump through some hoops if you'd like to have one of 2017's most unique smartphones.
Recommended Stories