The Machismo will light up that cigarette for you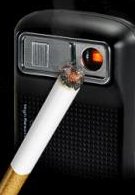 Cell phones can arguably be considered as the Swiss Army knife of gadgets – especially when you consider all the neat uses you have access to in the palm of your hand. There have been many concepts out there that have been thought up by individuals – some provide a clear purpose while others are downright unjustified. Smokers out there may be impressed what a cell phone can accomplish now. The Machismo may have that masculine tone, but it actually is the world's hottest cigarette lighter cell phone – you basically slide open the safety hatch on the back of the phone, then you can light up your cigarette in a matter of a few seconds. Some of its features include tri-band specifications, dual SIM slots, 2.5" touchscreen,
1.3
-megapixel camera, and multimedia playback – all for a mere $69 if you're interested. Although there may be other dangerous ways of lighting up a cigarette with your cell phone, such as all the news about exploding batteries we hear about, this may prove to be the most convenient and safest.
via
UberGizmo