The (Lenovo) ZUK Z2 Pro packs a Snapdragon 820 and up to 6GB LPDDR4 RAM from $415
15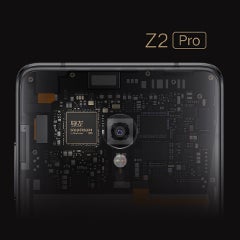 Though Motorola is easily Lenovo's best-known subsidiary, the Chinese firm created the ZUK brand early last year before launching the
Z1 smartphone
. Packed with Qualcomm's Snapdragon 801, a fingerprint scanner and a sizable 4100 mAh battery, it was a fairly decent, if somewhat forgettable handset. As a statement of intent, ZUK is back with a beastly new offering in the form of the Z2 Pro, which gets the Snapdragon 820 chipset and either 4 or 6 GB of RAM.
Where the aforementioned Z1 was very run-of-the-mill, the Z2 Pro is built to impress. Along with Qualcomm's powerful processor and a very generous dollop of LPDDR4 RAM, the Z2 Pro boasts
'the world's first true 3D glass body'.
According to a post on micro-blogging site Weibo, the Z2 Pro includes ten health sensors, including heart rate, blood oxygen, and UV detection. It is also being claimed that there's
'official'
support for Apple's iCloud, though we're not too sure what precisely this entails.
Quite surprisingly given the other specs, the display is
a 1080p offering. Over the 5.2-inch canvas, however, it should still be sharp enough for most, and by opting for FHD rather than QHD, there will be much less strain on the ZUK Z2 Pro's battery. Speaking of which, the device carries a 3100 mAh juice pack. This is considerably smaller than the 4100 mAh offering of the original Z1, but is still within the ballpark capacity of most comparable handsets.
Elsewhere, there's a fingerprint sensor and up to 128 GB of storage, while the 8-megapixel selfie shooter is countered by a 13-megapixel snapper to the rear. There's 4G LTE, of course, along with a USB 3.1 Type-C port, and the Z2 Pro runs ZUK's slightly adjusted take on Android 6.0 Marshmallow.
The device will hit the Chinese market tomorrow for the price of 2700 Yuan, which is about $415. Though it's unlikely to reach other markets like the United States any time soon, that's a
helluva
lot of bang for not a lot of buck.
Sure, the design is a tad generic, and you can never really assess a smartphone based on the list of specs. But for $400, we'd probably take the risk.
Would you? Check the images below and let us know what you make of the ZUK Z2 Pro in the comments!