The LG Spectrum and Motorola DROID 4 will be Verizon's first LTE world phones
7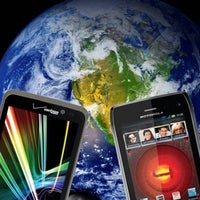 There is something interesting about the
LG Spectrum
and the
Motorola DROID 4
that remained unannounced during their unveiling, namely that both of these smartphones support global roaming. Why is this detail of interest? Well, simply because these are
Verizon's first LTE devices that can be used on any CDMA or GSM network worldwide
.
However, it turns out that the feature was not mentioned because it is not enabled yet. Before global roaming on the LG Spectrum and the DROID 4 get the green light, the carrier will need to tweak its network accordingly. Here is what Verizon spokeswoman Brenda Raney had to say on the matter:
"The LTE phones work globally in over 40 countries that currently use CDMA technology. ... For the new LTE phones to provide global roaming voice and data in non-CDMA countries, we are working on a few network enhancements so we can provide customers with the best voice and data roaming experience. We anticipate this capability to be available this year, likely the first half of the year."
So, if you plan on spending your spring break at an exotic island or at an European resort, your LG Spectrum or Motorola DROID 4 will most likely be functional there as well.