The Huawei P9's dual-camera module gets exposed in iFixit's teardown
3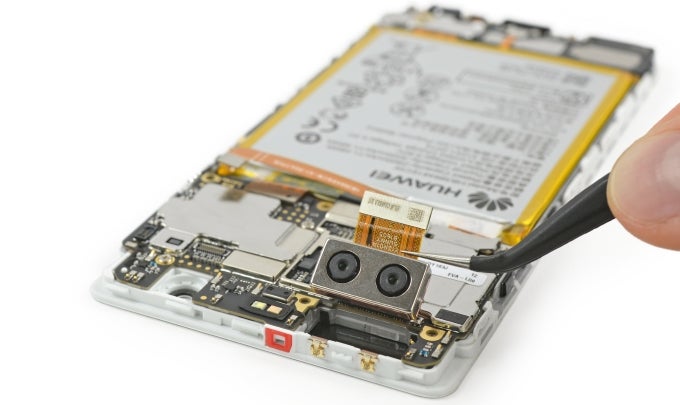 The teardown artisans at iFixit have gotten their seasoned hands on Huawei's dual-camera flagship smartphone, the P9. The technicians dismantled the gadget and deemed it rather easy to repair, thanks to an abundance of modular components with spring contacts, straightforward cabling, and minimal aplication of adhesive. However, the display assembly is fused together and its replacement requires taking apart most of the device.
Another interesting observation is the use of tiny pentalobe screws like the ones Apple uses for its iPhones, which is a first for a non-iOS device and is greeted rather lukewarmly by the iFixit team. "The only reason to use them is to prevent the average user from getting them out," note the technicians. We also get to learn that the P9 uses the same high quality fingerprint sensor like the one on the Nexus 6P, and that the USB Type-C port is separate from the daughterboard, making the component easy to replace.
The full journey from fully assembled phone to a table covered in copper, wires, and other Huawei P9 guts can be experienced from the source link below. You can also check out
our review of the handset
, complete with impressions from its infamous dual camera.