The Huawei Ascend P7 makes everyone want to be "thin, thin, thin"
21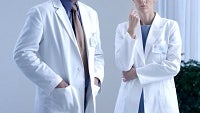 The new
Ascend P7
from Huawei is one nifty looking smartphone. It is thin, has a nice looking build element to it, and for an LTE unit, its expected price is going to make it an attractive option no matter how fancy it looks.
With something this thin, built along a metal frame with Gorilla Glass on the front and back panel, Huawei was clearly aiming for that "supermodel" look, and that is the theme of this rather entertaining ad, a story from the perspective of a plastic surgeon.
The Ascend P7 is one of the lightest and thinnest 5-inch smartphones around. It is able to handle all the business, has a wide-angle 8MP front camera for selfies, and the aforementioned premium build quality. Huawei's Emotion UI is quite distinct, highly functional, and we gave the phone
high marks in our review
.
So what does it take to be a supermodel nowadays? Listen to the doctors as they share the challenges and high-class problems that plastic surgeons endure. "Everyone wants that 'P7 look,'" indeed, it is arguably "supermodel thin," though with all that glass, we'll withhold judgment on the "superhero tough" part.