The HeadWatch is a mix between a smartwatch and a Bluetooth headset
10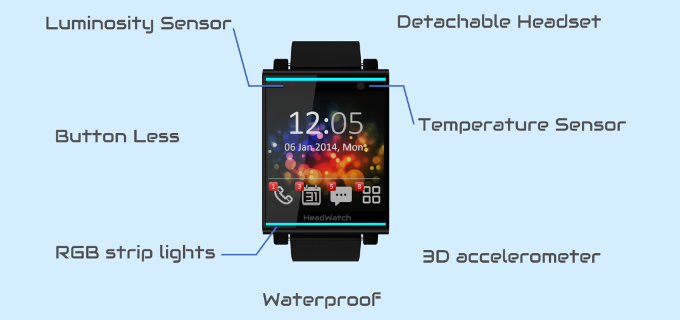 Meet the HeadWatch – a new IndieGoGo project, which couples an Android smartwatch with a Bluetooth headset. Similar to the
Huawei TalkBand B1 smartband
, this wearable comes with two detachable parts – a wrist strap and a touchscreen/headset. Whereas the purpose of the former is clear, the latter comes with an implemented speaker, a microphone, and a hooking mechanism, enabling you to snap the display over your ear and make а call. However, the strange shape of the detachable headset makes us think that wearing it won't be as comfortable as the aforementioned Huawei smartband

The HeadWatch is waterproof up to 3 ft of water and has no buttons at all. The user can interact with the gadget via touch inputs and gestures. The wearable comes with various sensors on board, such as a 3D accelerometer, light and temperature sensors, etc. There are two RGB light strips on the front of the device, which flash when you have a pending notification.
The developers say that the HeadWatch is compatible with iOS, Android, and Windows Phone devices. Users can respond to texts, answer or reject calls, and view various push notifications from their smartphones. It is touted that the battery of the HeadWatch provides up to 2 days of battery life.
The developers behind the unusual wearable have priced it at $200. Still, the first 500 backers will get it for $169, whereas the next 1000 people will get the HeadWatch for $189. However, the HeadWatch might only see the day of light if it raises some $300,000 via IndieGoGo. At the time of writing, HeadWatch has been backed with $2,446 and the crowdfunding campaign will continue until May 7, 2014. If the campaign proves to be successful, the backers will receive their wearables almost a year later, in Q1 2015.