The HTC One M8 for Windows goes toe-to-toe with the competition in our early camera comparison
53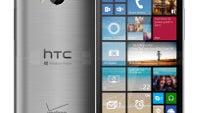 Yesterday, HTC execs took to a stage in New York and pulled the veils off a device we've been expecting for quite a while: the HTC One M8 for Windows.
Now, while most will agree that the new One M8 is essentially the same device, we can't stress how much of a difference it makes that HTC went through the trouble of getting the latest version of Windows Phone (8.1) running on it, and we're sure the Microsoft-faithful crowd agrees, to say the least. Quite frankly, we observed some folks that were downright ecstatic, and for a good reason.
You see, there's a lot to love about the One M8, whether we're talking the Android or Windows Phone version. Its premium-feeling and looking aluminum unibody, for example, puts the device in a league of its own, and you've just got to love those two front-blasting BoomSound speakers. But one question tickled our curiosity -- how fares HTC's proprietary 4-megapixel UltraPixel Duo Camera on Microsoft's mobile OS? Does it outperform its Android counterpart? And what about the competition, how does it stack up? We thought you'd want to know, too, so we snapped a number of images with our own One M8 for Windows unit and a number of competing devices.

Take a look at the kind of snaps each of these configurations manages, and see how they compare against each other.