The Croods video game by Rovio to launch in a week on iOS and Android
9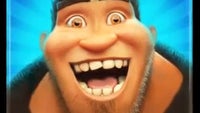 The guys at Rovio, known for developing titles like Amazing Alex, Bad Piggies, and of course Angry Birds, are working on a new mobile video game. And surprisingly, this time the action does not revolve around physics and puzzle-solving. Instead, their upcoming game is called "The Croods" and it appears to be one of those virtual fantasy worlds that you have to take control of.
As you might expect, the game is based on DreamWorks' animated movie "The Croods" and features its adorable characters. Grug is one of the protagonists and his task will be to hunt and gather resources for his family. There will be animals that the player will need to domesticate in order to expand the "pre-hysterical" world. All of this will take place in a colorful world where crazy creatures live and your in-laws can be just as dangerous as the beasts living in the wild.
The Croods by Rovio is scheduled to launch on March 14 and it will be available on both Android and iOS. There is no word about pricing yet, but our guess is that the game will be pretty cheap, or even ad-supported. Take a look at the short gameplay video below!