The BlackBerry Passport gets some celebrity love
15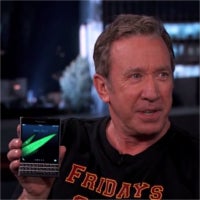 In a recent clip from the Jimmy Kimmel show, taken from an interview with comedy actor Tim Allen, the two go off on a slight tangent, talking about gadgetry. When asked whether he has the new
iPhone 6
, Tim Allen says that he does and that it's neat, but then says that he's got something even more interesting and pulls out a
BlackBerry Passport
out for a short plug.
We're unsure whether this was a BlackBerry ploy to give the phone some time under the spotlight, or if Tim Allen is just really enthusiastic about his gadgets. Still, it looks like he's taking a jab at the
iPhone 6 Plus
, since when asked about how he carries the Passport, Allen places it in his back pocket and makes a lighthearted comment about having a big bottom, hinting that the thought of bending the device by sitting on it hasn't even passed through his mind.
The Passport has been available for purchase for
$599 off-contract
for about a week now, and was
sold-out on day 2 after the launch
, when the sales meter hit 200,000 units. Having a low number of devices ready for sale may mean that CEO John Chen was either pleasantly surprised by the unorthodox smartphone's initial success, or was just playing it safe.
Check the clip below, let us know what you think – plug by BB, or just an enthusiastic techie, who happens to be a famous actor?