The Banner Saga 3 is up for funding on KickStarter, reaches 50% of its goal in the matter of hours!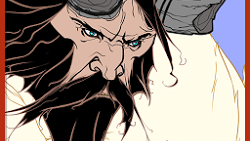 The Banner Saga is a multi-platform-compatible game, mobile included. It became famous for its refined tactical RPG gaming and deep and interesting world, making it one of the few "serious" titles for mobile gamers. Well, it also got a popularity boost from King Digital — developer of games, such as Candy Crush Saga, Papa Pear Saga, et cetera — as it attempted to sue The Banner Saga's makers (Stoic) over the use of the word "saga"... yup.
Anyway, The Banner Saga was successful and loved, which prompted the development of a second game of the same name. The latter did not suffer any "sequel sickness" and was widely praised and loved by fans and critics alike. Can Stoic repeat the success a 3rd time in a row?
The company sure believes so. It has now launched a Kickstarter campaign — being an indie developer and all, that's not an unusual move — which has $200,000 set as its primary goal. Within hours of the campaign's launch, the funds have reached $99,446 (as of writing this article), giving off a pretty good indication that fans want this game to happen, and it will not only reach its primary goal, but most probably have funding for a few stretch goals as well.
If you want to fund the game, a $20 will ensure you get a pre-order digital download. Going for $30 will add your name to the game's credits for some author gratitude. A $50 will let you customize your own banner-bearer ingame and will put you on the list for battle alpha-testing of the game. For $75 you will get digital downloads for: the soundtracks for all 3 games, the full trilogy's art book, and the "Gift of Hadrborg" novel. Going for $100 and above gets you varying physical loot boxes. The tiers go all the way up to $10,000, where the team promises to name you "Executive Producer", but you know... eh... maybe don't go as far.
If you've backed up the entire trilogy back when the original Saga 1 campaign was running (the $50 tier), you don't have to do anything here. When the Banner Saga 3 is complete, you will get your key. However, spending cash on this project can net you some of the sweet bonuses and you will get an extra copy of the game to share with a friend.
We don't know when the game is scheduled to be released, but the Kickstarter campaign is set to run until March the 8th. So, the earliest possible release is probably around the end of 2017 or early 2018.
source:
Kickstarter