The Apple iPhone 5 is the most searched news story for 2012 on Bing
26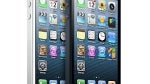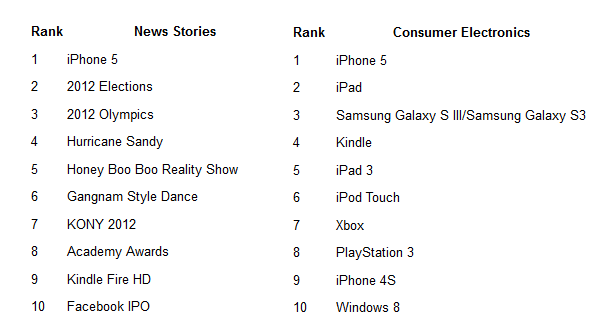 The Apple iPhone 5 is the most searched news story and consumer electronics device on Bing this year
A lot of things happened in 2012, up to now. We had the
Presidential Election
in the U.S.,
Hurricane Sandy
, Gangam Style dancing, the
Aurora Batman shooting
and the
2012 Olympics
to name a few things. With a little more than a month remaining in the year, the top story searched on Bing so far this year is the
Apple iPhone 5
. The 6th generation of Apple's iconic smartphone shows that it still has the same ability to wow the public as it did in 2007 when the OG
Apple iPhone
hit the scene. This year's model has a longer 4 inch screen,
LTE connectivity
and the new
lightning dock connector
to name a few new features.
So what were some of the other stories that the Apple iPhone 5 beat out on Bing? The 2012 Presidential Elections is second, the 2012 London Olympics third while Hurricane Sandy came in fourth. The Honey Boo Boo Reality Show comes next with Gangnam Style Dancing sixth. KONY 2012 and the Academy Awards finished seventh and eighth respectively, while the
Amazon Kindle Fire HD
and the Facebook IPO closed out the top ten.
Suppose we concentrate on consumer electronics searches in 2012. The Apple iPhone 5 remains on top with the
Apple iPad
second and the
Samsung Galaxy S III
third. The Amazon Kindle Fire HD,
third-generation Apple iPad
,
Apple iPod touch
, Xbox, Playstation 3,
Apple iPhone 4S
and Windows 8 fill out the rest of the top ten.
Bing currently represents
10% of the search market
, but we would imagine that the lists for other search engines wouldn't be too much different.
source:
Bing
via
CNET