The Apple iPad Air 2 camera in details: 8MP snapper shoots bursts, time-lapse, and more
6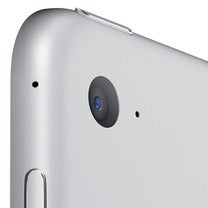 People do take photos with their tablets. They don't do it often, but they still do when timing matters or when there's no better camera around. That's why we're not surprised to see an upgraded camera on Apple's iPad Air 2 tablet. What makes it better, you ask? Well, it is more than just the higher megapixel count, but let's start with that.
The iPad Air 2 has been treated to an 8MP iSight camera, which gives it 60% more pixels to work with compared to last year's iPad Air and its 5MP shooter. This should translate to better, more detailed images. On the other hand, pixel size is still rather average at 1.12 microns, and so is the aperture size of F2.4.
Apple has put its A8X SoC and its image signal processor to good use. With the silicon's help, the iPad Air 2's camera can detect faces better and from a further distance, thus keeping them in precise focus. And with improved noise reduction, there should be less grain in your images.
But hardware is just one part of the equation. Feature-wise, the iPad Air 2 can shoot 1080p video with stereo sound, 120-fps slow-motion videos, and time lapse videos, just like the iPhone 6. Panoramas can now be captured at higher resolution of up to 43 megapixels. The added manual exposure control, burst mode, Auto HDR, and self timer complete the iPad's camera package. The only crucial thing still missing is a flash of some kind, but we're guessing the upgrade may come in a future model.
And that's the camera on the iPad Air 2 in a nutshell. Overall, it seems like a pretty decent camera (for one on a tablet, that is), and we're looking forward to taking a look at some photo samples.