The Android Revolution started 3 years ago Friday with the introduction of the T-Mobile G1
87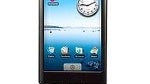 A bit more than three years ago to the day, the
T-Mobile G1 was announced and the Android Revolution started
. As we
reported
back on September 23rd, 2008, the T-Mobile G1 was to launch on October 22nd from T-Mobile for $179 with a signed 2-year contract. T-Mobile was allowing a limited number of existing customers to pre-order the phone. At launch, the carrier had just 21 markets with 3G coverage.
At the time of the T-Mobile G1's introduction, the feeling was that anything missing from the phone,
like a video player
, could be found in the Android Market. The phone was equipped with a 3.2 inch screen with resolution of 320 x 480 and had a single-core Qualcomm MSM 7201A clocked at 528 MHz under the hood. 192MB of RAM was on board and a 3.2MP camera with AF was on back. A side sliding QWERTY keyboard gave the G1 a one-up on the Apple iPhone.
By April 2009, 1 million units of the T-Mobile G1 had been sold in the U.S, as
we told you
. That trailed behind the Apple iPhone 3G which had sales of 1.6 million during the prior three month quarter alone. Of course, T-Mobile
had restricted G1 sales in the beginning to the 21 markets where it offered 3G service
at the time, constraining sales of the first Android model. Soon, the Android Cupcake update appeared to bring a virtual QWERTY to the device along with stereo Bluetooth support and the ability to save MMS messages.
Today,
Android is a household name
and the newer devices sporting the OS have dual core processors, 1GB of RAM, front facing cameras and rear cameras that capture video in HD. The handsets run over 4G pipelines and have huge 4.5 inch screens with amazing resolution. The Android Market is expected to surpass the App Store in number of apps soon. The price of the Samsung Galaxy S II, Sprint Epic 4G Touch
is only $20 more
with a signed 2-year pact than the T-Mobile G1 was almost 3 years ago. And the former is considered by some to be the best Android phone of all time.
Things have come a long way in the last 3 years. Who can even take a stab at guessing where Android will be 3 years from now?
source:
T-Mobile