The AirPods charging case is prone to battery drainage issues
36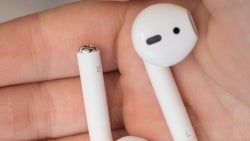 The AirPods might be great, but as any first-generation product, they might be prone to flaws. In about two and a half weeks since their launch, some users have started complaining of battery drain issues tied with the AirPods' charging case. Although Apple claims that the battery in the case holds 24 hours worth of charge, users have been noticing drains of up to 40 percent – despite the AirPods being fully charged and Bluetooth activity at a minimum.
Apple is already handing out replacements to affected customers. One described getting a new set of AirPods which didn't lose charge over night. Chances are that the battery issue won't turn out to be a widespread problem, perhaps contained to an early batch of units. However, at this point it's not exactly clear how many users are affected, or if the issue could resolve itself over time as charge cycles add up.
If you find yourself experiencing battery drain issues with the AirPods charging case, your best bet for now will be going to the Apple store for a replacement.