The Acer Jade Primo is the world's first phone to support Windows 10's Continuum
23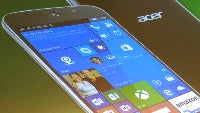 Today at IFA 2015 in Berlin, Germany, Acer announced the Jade Primo, a device that comes with Windows 10 for phones. Dubbed a "pocket PC" by Acer, the handset meets all hardware requirements to run Microsoft's latest OS and all of its features, especially Continuum.
Actually, it's touted as the first phone in the world that supports Continuum, which is without a doubt one of the more interesting Windows 10 ones. Basically, it allows your Windows 10 smartphone to turn into a (almost) full-blown PC if you connect it to an external screen and controls, such as mouse and keyboard. In order to allow users to make use of this feature, the Jade Primo will come with a docking station, as well as a wireless mouse and keyboard.
On top of it all, it will be able to run universal Windows 10 apps, as well as x86-based apps that have been converted for devices with ARM-based chipsets, like the one that powers the Jade Primo. We are talking about a hexa-core Snapdragon 808 chipset that is powering the whole shebang.
Other hardware specs of the Jade Primo include a 5.5-inch 1080p AMOLED display up front and a Snapdragon 808 chipset to power the whole shebang, the Acer Jade Primo is one of the better-spec'd Windows-powered smartphones we've seen of late. A 21MP camera with a dual-LED flash at the back and an 8MP selfie camera were also mentioned as key features of the device.
The rest of the specs, features, price, and availability of the Jade Primo have not been revealed yet, but we will update you once we know more.