The 128GB Google Pixel XL won't be available at Verizon stores tomorrow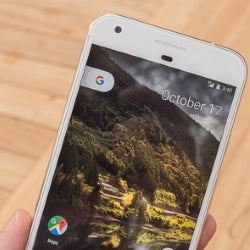 Unfortunately, those of you who planned to walk in a Verizon store and buy a 128GB Google
Pixel XL
will be greeted with disappointment, for Verizon's initial inventory of 128GB
Pixel
XL units has already been sold out and the smartphone won't be available at the carrier's retail stores tomorrow.
What's more, shipping estimates have stretched towards November 18, which means you'll have to wait close to a month if you want a bigger capacity Pixel XL. The news comes courtesy of Jeffrey Nelson, an employee of Verizon's communications team. He also urges those keen on buying a Pixel phone to get to Verizon early.
The 32GB Pixel XL will be available as usual, as well as 128GB versions of the smaller Pixel smartphone. The difference is that the Pixel has a 5-inch 1080p display and a smaller battery, while the Pixel XL has a 5.5-inch Quad-HD resolution screen. Thus, you'll have to decide whether you want a phone early, or can wait until the 128GB Pixel XL has wider availability.
ALSO READ